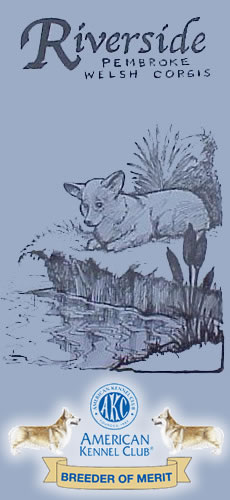 The Beginning

We were fortunate in that our first corgi (obtained in 1979) became CH. Presqu'ile Bronze Caralon UDT, VC (OFA, CERF) all owner handled trained. She went on to produce several champion, obedience, tracking titled, even group winning offspring. From her, descended two more Versatile Corgis (VC), CH. Riverside Dream Addition UDT, VC, ROM (OFA, CERF) and her daughter CH. Riverside Extra Addition UDT, VC. Dreamer is still the only Versatile Corgi (VC), Register Of Merit (ROM) Pembroke Welsh Corgi bitch. Though she is no longer with us, she lived out her retirement years in Mountainview, California with my sister and her husband, (Julie and Bill Divens) and her grandson Bentley, as did Cari before her.



Present


Kimmie was bred by Andy Carter and Ann Morris and co-owned intermittently during her show career with Andy Carter and her handlers Greg and Jane Myers. Kimmie's claim to fame is "ultimate" show dog (see special wins) and free whelping top producer. She finished her Championship easily, owner handled by me, certified for her tracking degree and is Herding Instinct Certified. She was the first of my dogs good enough to consistently "special" and was shown as a special for three years by myself and eventually my good friends/handlers Greg and Jane Myers. She remained in the top 10 for 3 years, was # 1 bitch for one year and had two litters during that time. Kimmie's 7th champion offspring just finished, earning Kimmie the coveted R.O.M. title. Kimmie took Dreamers place in California and lived the veteran, retired, life with Bill and Jules until the ripe old age of 14.

She has three Champion offspring, and another pointed, Tracking Titled (TD), and multiple Agility Titled daughter from her first litter by CH. Nebriowa Front and Center ROMX. Kimmie's other litters were by CH. Pinemeade Paper Dragon ROMX (Luke) and CH. Foxway Legacy Continues. She has three champion offspring by Luke (Paper Dragon), CH Riverside Out Of Bounds (Boss) and CH Riverside Out Of Necessity (Jamie) and CH Riverside Outstanding (Gina). She has one more CH Riverside One And Only, (Brittany), by CH Foxway Legacy Continues, (Cooper).